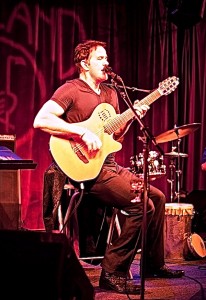 From blues to bossa to ballads to swing to latin to folk to funk to reggae to bebop, singer‐songwriter­‐guitarist Sean Sullivan always serves up a savory gumbo of grooves from his own distinctive melting pot. The southern-­born native New Yorker and Tribeca resident believes family heritage and environment are key ingredients in his ability to cook up myriad musical flavors. "My mother was born in West Virginia of French and Cherokee descent, her father was a Nazarene minister, and her grandfather was a bible‐totin' circuit rider (c.c.rider). In a sense, I feel as though I carry on the preaching legacy as a performer." Add to this rural rouille a dash of island spice and a cup of urban bohemia. "When I was a child we moved to the Bahamas for a year and then on to the upper west side of Manhattan. Although they were both freelance writers professionally, my mother had been a dancer with Martha Graham, was an activist and a poet, and my stepfather had hosted a jazz radio show and was an avid painter. The apartment was filled with music and art. My earliest performances were at parties at home, attended by hipster friends and celebrities. They would march me out in my pajamas to do my impersonations of rock, pop and jazz legends. My real father was a true New Yorker from "bootlegger" stock, born in Brooklyn, Jesuit­‐educated with a mob lawyer dad. Growing up in a flamboyant family atmosphere had its ups and downs, but ultimately I'm grateful for the emphasis on creativity, the arts, and liberal education."
It was while attending the arts­‐oriented New Lincoln School in Manhattan that Sullivan began playing guitar, singing in musicals and assemblies, and with the school choir. A simultaneous interest in classic fiction was further ignited at Wesleyan University, where he earned a degree in English Literature, while continuing a wide range of musical studies. "With the Wesleyan Singers I performed Gregorian chants, madrigals, and avant‐garde music. One score had us banging on junkyard metal and uttering nonsense sounds. Wesleyan pioneered the world music scene, so I experienced a 'global village' with a variety of concerts and teachers that would pry open even the most jaded western mind."
After college, Sullivan started playing professionally in the Boston area while studying jazz formally at Berklee College of Music and classical guitar at the New England Conservatory. Following a period of solo gigs in the United States and Puerto Rico, he finally returned to New York. "Arnie Lawrence at the New School heard a demo tape I'd made and invited me down to study jazz. The first day I walked in, and there was Jon Hendricks telling stories to a class taught by his daughter Michelle. I was stunned. After all, I'd been listening to his music since early childhood. 'Gimme That Wine', 'Cloudburst', and all those Lambert, Hendricks & Ross tunes were family heirlooms." Sullivan and Hendricks formed an immediate friendship finding many common points, love of literature, Native American ancestry, and above all, jazz vocalese, blues, bebop and scat singing. Sullivan began to learn from Hendricks both in and out of a school setting, absorbing his wisdom as an improviser and as a lyricist.
Through his association with Hendricks, Sullivan met and gigged with some of New York's finest musicians including tenor sax legend David "Fathead" Newman (featured on Square One) and pianist/singer Teri Thornton. "I feel incredibly blessed to have hung out with greats like Cab Calloway, Ella Fitzgerald, Joe Williams, Oscar Brown Jr., Abbey Lincoln and many others. These encounters and the 'school of gigs' have shaped me and kept me in the game."
For songwriting inspiration, Sullivan credits the mastery of over two hundred tunes from bebop to bossa to blues to tin pan alley to singer­‐songwriters as the guiding force behind his work. In light of his travels and family background he adds, "I'm equally at home with the downhome blues, standards, Latin and bossa or singer­‐ songwriter material, and I think this is apparent in my originals." Of his process Sullivan confides that he writes "intuitively, usually from a central idea or phrase that comes from God knows where. Once a workable idea reveals itself I continue to write the song, because I know its there. I try to stay out of the way of overthinking and let the song write itself. Of course that doesn't mean that the rest of the song may come as spontaneously as did the generative idea, but I believe that even a slowly crafted song must still be one of gut recognition to ring true. The intellect is only a tool to serve the higher intelligence of the human spirit."
That philosophy propels Sullivan's latest project "Hereafter", a title that aptly evokes the timeless qualities therein. Helmed by veteran producer Matt Pierson, recorded at legendary Sear Sound, and supported by a host of consummate musicians, the project contains eight originals and four covers infused with a bluesy, earthy vibe that alternately soothes and sermonizes with a side of wry gravy and a proper dollop of Big Easy-­style funk. Meditative moments include "Wash My Soul", an elegy to the sea, "Wandering Home", an allegorical tale of self­‐discovery, and the healing simplicity of "Only Love". On the flipside the BBQ blazes with fat­‐poppin' foot­‐stompers like "God Is In The Blues", "Ready", and the folksy funk of title track "Hereafter", that opens with "Well I dreamed I went to heaven to my final resting place, I found Jesus on the saxophone and God was thumpin' bass". Lowdown noiresque minor‐key blues "A Man's Woman" fogs up the mirror while "Don't Get Me Started" confesses an unstoppable jones for making music that calls to mind the groovy soul of Marvin Gaye. Cover­‐wise, inventive ballad versions of Bob Marley's "Waiting in Vain" and Stevie Wonder's "Until You Come Back To Me" are standouts, as well as knowing nods to Michael Franks' "Jive", and mentor Jon Hendricks' comic ode to oenophiles "Gimme That Wine".
Ultimately, Sullivan insists his musical 'raison d'etre' arises from listening to both his heart and to what people respond to on the gig. "They seem to dig my bluesy approach, variety of grooves, and originals. If you listen to your audience, they will tell you who you are". A two-­time winner of the John Lennon Songwriting Contest, Sean Sullivan has performed at such prestigious venues as Freihofer's Jazz Festival at Saratoga, the Mellon Jazz Fest, Time Warner American Music Fest, Birdland, Iridium, and the premier of Netaid at the United Nations. He has taught vocal jazz at the NYU School of Music, JazzMobile, and the Vermont Jazz Center. Formal training includes jazz studies at Berklee College of Music, the New England Conservatory, the New School, and a BA in English Literature from Wesleyan University.