Basic info
NOTEWORTHY
HOME BASE: New York City, NY
INSTRUMENTS: Voice & Guitar
COLLEAGUES: Mentored by vocal jazz legend Jon Hendricks. Recorded and performed with Ray Charles alumnus and saxophone legend David "Fathead" Newman(SQUARE ONE). Recent recording and performances (HEREAFTER) with band members Kevin Hays (piano/keyboards), Steve Cardenas (guitar), Tony Scherr (bass), Kenny Wollesen (drums), Seamus Blake (sax), Andy Snitzer (sax), Bashiri Johnson (percussion), Ray Angry (Hammond organ), David Mann (keyboard/flute) and Shayna Steele (background vocals).
PAST PERFORMANCES:
– Rockwood Music Hall
– Freihofer's Jazz Festival at Saratoga,
– Mellon Jazz Festival
– Time Warner American Music Fest
– Birdland, Iridium, Bowery Electric
– Two-time winner of the John Lennon Songwriting Award.
– Recently released original project entitled HEREAFTER with distribution by MRI/SonyRed and a publicity campaign handled by Shore Fire Media. Favorable reviews and features in print, radio and television thus far have included an interview/performance on NPR's Song Travels with Michael Feinstein, CBS' Last.FM, JazzTimes, Jazziz, USATODAY, Yahoo!Music, Relix, BloombergTV, Utne Reader, Guitar World, Elmore Magazine etc.
– Major media comparisons with masters like Boz Scaggs, Al Jarreau, Jon Hendricks, James Taylor, Gregory Porter, Eric Clapton, Amos Lee, Ray Lamontagne, Cassandra Wilson, Cecile McLorin Salvant, and one song, amusingly, like "a subdued James Brown".
Press Photos

Hi-res TIF

Hi-res TIF

Hi-res JPEG

Hi-res TIF

Hi-res Jpeg

Hi-Res TIF
Quotes
"HEREAFTER is the sweet spot between jazz, soul, rock, and Americana, and recalls the recordings of Boz Scaggs and Al Jarreau."
~BRIAN MANSFIELD (USA TODAY)
"Sean Sullivan's soulful, sensuous voice shine's on HEREAFTER, a playful genre-hopping romp… the singer and songwriter variously invokes the slow-burning blues-rock of Eric Clapton; the folk-soul of Amos Lee or Ray Lamontagne; and the strutting jazz swagger of his hero, Jon Hendricks."
~JONATHAN WIDRAN (JAZZIZ MAGAZINE)
"Amid all the well-deserved hoopla for Gregory Porter and Cecile Mclorin Salvant, there's another new(ish) vocalist, equally deserving of huzzahs, who remains too far under the radar. He is Sean Sullivan…with a dynamic sound that suggests James Taylor meets Boz Scaggs by way of Al Jarreau… There's a lot of Porter in Sullivan too, not stylistically but with regard to attitude: that same mesmerizing sense of soul-deep sincerity and guileless charm…expansive palette… demonstrating poetic flair worthy of Taylor or Porter… The most persistent theme, befitting so devout an up-and-comer is music as spiritual quest, addressed in both the title track with its jazz-filled heaven and more earthily in the blistering "God is in the Blues"."
~CHRISTOPHER LOUDON (JAZZ TIMES)
Square One

Reviews

Lyrics

Gig Card

One Sheet

Hi-res JPEG

Poster
Tech rider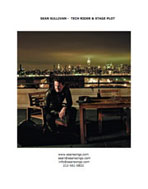 Tech Rider